In a quiet corner of a park in Jeppestown, an area just east of Johannesburg's city center, fafi players gather to collect their bags. Fafi, also written as fah-fee or known as umchina, the isiZulu word for Chinese, is an illegal lottery game played throughout urban areas and townships in South Africa. Players bet on a number between 1 and 36, all of which correspond to a particular image. These images oscillate from the seemingly mundane (shoes, egg, cat, car, and birds flying) to the more sinister events of urban life (dead woman, fire, police, thief, and drunk man). Each is based on Zulu dream interpretations and can be read as a comment on the difficulties of navigating life in South Africa both in the past and today. Players interpret their dreams and events that take place during waking hours through the number scheme, which then become wagers in the next game.
The precise origin of the gambling game is unknown, but it has ties to the Chinese community in South Africa. The large trucks with bulletproof windows that drive to each fafi game, always located in public spaces, are all driven by Chinese South Africans or more recent Chinese migrants. Two people to a truck, they drive particular routes to deliver the winning fafi number to the gamblers who have assembled. These men, and occasionally women, are known as the "fafi man."
After the winning number is announced through a hand gesture, gamblers who placed winning bets receive their winning bags. The runner—the person designated by the fafi man to run the game at each of the different fafi spots—knows most of the players' bag numbers by heart, so he rarely calls them out. Other players give the winners a little nod or smile of acknowledgement or approval. The losers get their bags back next. They also receive a little nod from their fellow gamblers, as if to say "don't lose hope." Winnings distributed, the small crowd disperses to bet again another day. These gatherings form and dissipate twice a day on street corners, at parks, and in other public spaces throughout South Africa.
In the wake of an economic downturn, corruption, and the growing influence of the Economic Freedom Fighters and the Democratic Alliance in national and municipal politics, the promises of economic liberation proposed by the ANC in the early days of post-apartheid South Africa seem far away. Poor, black South Africans, particularly in urban areas, are looking for new ways to make futures for themselves—even to get ahead of the future.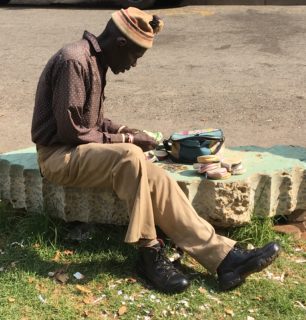 One Sunday, I sat watching a large traditional Zulu dance competition at the park. Hundreds of men in costume retold well-known tales through their bodies, rhythm, and formations. One of the women I played fafi with regularly grabbed me by the arm and pointed to the crowds. Then she whispered in my ear, "Many people: number 26." Everything has the potential to become a symbol to be interpreted through the number scheme.
Players place a heavy emphasis on their ability to interpret their own dreams and experiences as well as the patterns of winning numbers that they diligently track in notebooks or on scraps of paper. Players will record winning numbers in their notebooks for up to four years before they claim to understand the patterns of repeating winning numbers. This interpretive emphasis is echoed in the way development companies examine the dilapidated buildings of urban Johannesburg in search of properties and patterns that they can convert into a profit—a part of the Johannesburg 2040 plan that aims to render Johannesburg as a "world class" city. The speculative practices reach back to Johannesburg's boomtown history, during which the patterns of gold to be mined were decoded through an array of techniques. In this way, fafi becomes another example of ways in which South Africans are eager to get ahead through speculative means.
Although bets by individual players rarely exceed or reach as high as 100 rand, most bags carry several different players' bets. Some players will bet with multiple bags. One of the regulars plays 13 bags every game. He picks them up from different friends throughout the city. Despite the small amounts placed in each individual bet, the money going into fafi games is not insignificant. The National Lottery Commission of South Africa estimated that in 2014, fafi generated profits of 190 million rand (over $13.7 million) just in the region of Limpopo—all completely untaxed.
Gamblers who have their own bags will take bets for other players and interpret their dreams, marking all the bets on grids on the small pieces of paper distributed by the fafi man. If one of these other players wins, the bag owner will take a portion of the winning. There is a sense amongst players with bags that this is their job, and at times they will rearrange the bets they take from others—spreading them out amongst the 36 possible numbers—to increase their odds of making money. Fafi is an explicit moneymaking scheme, more successful for those in control who run the fafi banks than for any of the gamblers. However, fafi also points to how dreams and interpretations of the future have become valuable in contemporary Johannesburg.
One afternoon, after losing the pull—12: dead woman—Mbali, a friend who works in a nearby restaurant and I sat watching the two fafi men go through bags and distribute winnings. Mbali noted how the men carefully folded each paper with bets written on it. "They'll take each of these back to wherever the main bank is and calculate how much each bag played," she said. Players claim that the fafi men keep track of what numbers players are betting on. It's believed that they track dreams or experiences in the world through the fafi numbers and choose a number that nobody is playing from their large data sets. The goal in playing fafi, then, is to get ahead of the fafi man's calculations, to predict his next move. But all is speculation. None of the gamblers know for sure how the number is chosen. This is the tension that undergirds their interpretive logics: players assume the fafi man is tracking and interpreting their patterns as well. In order to get ahead of the fafi man, one must get ahead of the future before it unfolds.
In an interview with an older man, I asked if he ever played fafi. He paused for a second, then scoffed and said, "No no, I have no interest in fafi or umchina." But then, his face and manner warmed as he said, "But my mother-in-law, she played, and she won all the time. All the time!" He went on to tell me that his mother-in-law would come to visit him and his wife in the West Rand, and when she did, she asked to be connected to the fafi games around the area. Before long she was winning so much that the fafi man asked to see her, but everyone advised her not to go. "If he sees you, you won't be able to catch him again," they told her. The man talked about his mother-in-law with high praise: "Always she would catch the fafi man. I really respected her, my mother-in-law, because she would win."
Fafi, on the one hand, is an example of a successful crime enterprise that exploits the poorest and most vulnerable populations in South Africa. It points to the failure of the current government, both national and local, to protect and support citizens. But on the other hand, by looking closely at players' commitments, interpretive schemes, and emotional responses to "getting ahead," fafi illuminates a set of practices for and affects toward the future. Fafi shows a deep desire to understand the future in the present. The gambling game isn't necessarily a desire for the future—the accumulated winnings are never life changing—but it is a desire to reduce uncertainty and get ahead of what is to come.
Brittany Birberick is a doctoral candidate in the Department of Anthropology at the University of California, Berkeley. Her work examines the temporality of urban transformation through close attention to declining industry in Jeppestown, one of the earliest developed areas of Johannesburg, South Africa.
Cite as: Birberick, Brittany. 2018. "Playing Fafi in Johannesburg." American Ethnologist website, August 22, 2018. Previously published in Anthropology News website, July 11, 2018. DOI: 10.1111/AN.901
This article was originally published by Anthropology News on July 11, 2018. See "Playing Fafi in Johannesburg" on Anthropology News website here: http://www.anthropology-news.org/index.php/2018/07/11/playing-fafi-in-johannesburg/