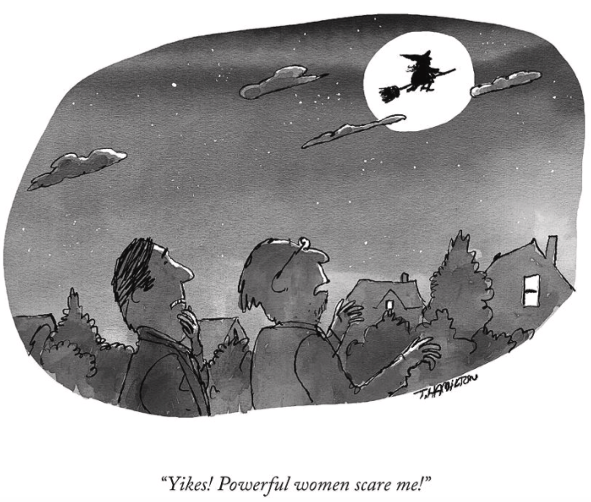 Around Halloween 2020, a cartoon made its way into the group text where my advisor and all of her advisees communicate. The cartoon (above) by Tim Hamilton in The New Yorker is of a witch flying across a full moon with two men below. One man states "Yikes! Powerful women scare me!" The cartoon was entertaining for a couple reasons. One, our group of female scientists had been lovingly nicknamed "The Coven," which is typically associated with a group of witches. Two, there is the sentiment that the men in the cartoon are not just afraid of a singular powerful woman, but also of women plural. Powerful, and empowered, women beget powerful, and empowered, women. Where there is one witch, there are, or will be, others.
When I first moved to Washington, DC after graduating from Colgate University, a friend of mine frequently commented in a joking tone "Empowered women, empower women." Soon, it became a more serious motto for a group of young female scientists in my office. We were a group of young women trying to make policy waves in a city infatuated with white, heteronormative, predominantly male power, and where recently the streets were filled with military forces to protect those fragile, racist ideals from a Black Lives Matter protest. Simultaneously, it is a city where the first female, Black, and South Asian Vice President was sworn in to office. It is a city where viewers were over taken with emotion when Amanda Gorman, the youngest inaugural poet to date, delivered a powerful performance. Powerful women, empowering women.
Embracing the phrase "empowered women, empower women" sometimes felt like I was drinking the Kool-Aid of one of a million other phrases women in power were titling their books or Ted Talks. It was not until the Coven lovingly accepted itself as a group of powerful young women ready to break into the world with their research, that I was able to truly reflect and understand the powerful lineage of empowered women that allow me to occupy the place in the world that I do today. One of the things I discovered while backtracking through all the individuals in my life, female identifying and otherwise, is that feminist lineages and genealogies are not linear, they are webbed and complex. My feminist lineage includes women that I have never met, but whom I have been strongly influenced by in the classroom, in the home, and have influenced the women I consider influential. How do you map lineages in a meaningful way, ensuring that it includes seemingly small things, like articles by anthropologists I have never met (such as Dr. Nomi Stone and her article "Imperial Mimesis"), to women like my advisor Dr. Alison Cool who is the reason I chose to attend the University of Colorado, Boulder for my PhD studies. Understanding that feminist lineages are not in fact linear, but are complex webs, I am going to attempt to guide you through my own feminist genealogy. It is a genealogy that embraces the idea that feminist lineages are inclusive, and that there is something powerful about empowered women.
I'm not sure how many people remember their "a-ha" moment as to why they chose their major or advisor in college, but I certainly do. It was the first day of class and I was taking "Practices of Peace and Conflict" at Colgate University, taught by Dr. Nancy Ries. As Dr. Ries calmly paced in front of the classroom of forty students, hands lightly clasped in front of her, she nonchalantly mentioned her research in Russia with the mob. I genuinely thought she had to be joking. She was definitely not. I knew there was no other professor I could possibly have as my advisor. Dr. Ries actively supported me through my own research project, one that I assumed would be too lofty for an undergraduate to tackle for a senior thesis. Her support for me, my research, and the subsequent job search that landed me in Washington DC ultimately encouraged me to return to graduate school with the same research that I had started at Colgate University. Dr. Ries pushed me theoretically, intellectually, and personally, as I assume her graduate advisor, Dr. Carol Greenhouse, did for her.
The Colgate University Anthropology Department is filled with strong intellectuals. In addition to Dr. Ries, Dr. Mary Moran also was a major component in my academic upbringing, providing the necessary theoretical challenges and handholding throughout my senior year. Dr. Moran is no stranger to powerful women herself, having been advised by Dr. Louise Lamphere. Dr. Lamphere is not only influential because of her research on women, but also because of her groundbreaking Title IX suit against Brown University, when she, the only female faculty in the Anthropology department at the time, was denied tenure. The suit is now considered a landmark moment in the University's history.
Dr. Ries and Dr. Moran both demonstrated to me that there are powerful women doing fascinating and important things, and also wanted me to do cool things, in the world of anthropology and beyond. After being connected to fellow Colgate alumna and University of Colorado professor Dr. Carole McGranahan at the AAA conference, I found my way to Dr. Alison Cool. After meeting Dr. Cool, I realized that there was nowhere else, and with no one else, that I could possibly accomplish the research on surveillance and drone technology I wanted to do. Through Dr. Cool's lineage, I soon became connected to the incredible Dr. Rayna Rapp and Dr. Emily Martin. Dr. Cool also connected me to other incoming graduate students, Paige Edmiston and Anna Wynfield. This was the beginning of the Coven.
A budding group of young female scientists that had started with Dr. Cool, Paige, and myself, grew to include her other amazing advisees (Gillian Davenport, Madelyn Zander, Lauren Barrett). Before the Covid-19 Pandemic, we regularly met to have a drink, review each other's grant proposals, share teaching and research plans, and just generally catch up. Together, in and beyond those moments, our collective power and support for one another grew. We had become the Coven, anthropological witches.
However, the university setting, undergraduate and beyond is not the only place one will encounter women who ultimately are welcomed into feminist webs and lineages. Here I think of my family, all the individuals I met in DC, the women I met in bar bathrooms that became close friends and hype women, GRE study buddies, running companions, rowing teammates, the authors I read who provided a breakthrough at the perfect moment (Dr. Jason de Leon) or just write so beautifully it inspires me to be better (Dr. Saiba Varma, Dr. Bianca Williams, Dr. Nomi Stone), and the women I watched teach and inspire the next generation of powerful women (Dr. Carole McGranahan, Dr. Kaifa Roland, Charlotte Butcher). All of these individuals become part of the complex and constantly interwoven and growing web of people that not only want, but actively advocate and push for, the success of others inside and outside their circle.
There is a famous saying, "There is no view from nowhere." I first read it in Dr. Kathryn Mariner's book Contingent Kinship. I write this from a place where, as a woman, I have been told to make room for myself at the table, listen but also be heard, show empathy but don't be walked over, work hard, and stand up for what matters. All of these things seem possible to me because I have watched the women (and men) in my life do these things and show me what is possible. The feminist genealogies, webs, and covens that are created in the world are powerful places to learn and realize realities and possibilities of the world. Covens and groups of powerful women should scare people, because they have figured out how to harness the power of support and growth, inside and outside the academe, to make the world and each other better.
Cite as: Butcher, Georgia. 2021. "The Power of the Coven." In "Genealogies of the Feminist Present: Lineages and Connections in Feminist Anthropology," edited by Lynn Bolles and Mary H. Moran, American Ethnologist website, 24 May 2021, https://americanethnologist.org/features/collections/legacies-and-genealogies-in-feminist-anthropology/the-power-of-the-coven
Georgia Butcher is a PhD Student in cultural anthropology at the University of Colorado, Boulder, where she studies military drone pilot experience.