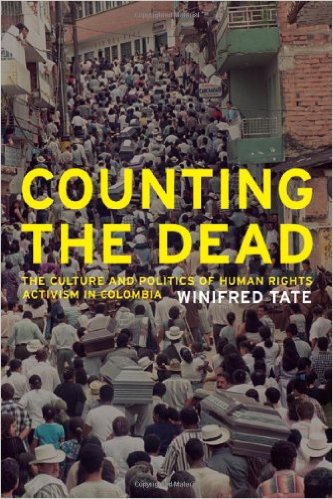 2009 Joint Winner
Counting the Dead
The Culture and Politics of Human Rights Activism in Colombia
by Winifred Tate
Winifred Tate, Colby College. "Counting the Dead: The Culture and Politics of Human Rights Activism in Colombia." 2007 University of California Press.
Prize Committee
Sharryn Kasmir (chair), Lesley Gill, and Daniel Varisco.
From the Publisher
At a time when a global consensus on human rights standards seems to be emerging, this rich study steps back to explore how the idea of human rights is actually employed by activists and human rights professionals. Winifred Tate, an anthropologist and activist with extensive experience in Colombia, finds that radically different ideas about human rights have shaped three groups of human rights professionals working there–nongovernmental activists, state representatives, and military officers. Drawing from the life stories of high-profile activists, pioneering interviews with military officials, and research at the United Nations Human Rights Commission in Geneva, Counting the Dead underscores the importance of analyzing and understanding human rights discourses, methodologies, and institutions within the context of broader cultural and political debates.