Emplacement & Disarray (Laura Roe)
A feeling of dull surprise – this is what I say I felt, when I was told to vacate my home during the pandemic. Although it was only three days ago, I don't precisely recall the moment: whatever my feelings were, anger and disbelief soon supplanted the rest, though these begin to hollow. Even as I write, surrounded by half-filled boxes and scattered belongings, in what I can no longer call home, I am filled only with resignation and a slight feeling of falling to pieces.
I must admit that teaching has not been at the forefront of my mind. I have largely ignored the many emails that sit within the category of "the move online." I answer students' queries where I can, and spent this afternoon mechanically setting up our online tutorial groups, for which I must soon prepare. I am thankful our Department approved a teaching format designed for online work, adapted to an age of social distancing and self-isolation. Our Head Tutor and my co-author, Sonja Dobroski, spent much of her own time in the previous fortnight devising the new system for first and second year modules, which asks students to engage with set questions, and one another, entirely through written responses. Not being live or on video, students can drop in and out of tutorials over the course of a week, posing their questions to myself and their peers. When I write back to them, I will not have to be composed, I must only appear so in text. What a remarkable difference this will make, for my disarray and improvisation are so often laid bare in tutorials, as a self-confessed "flapper."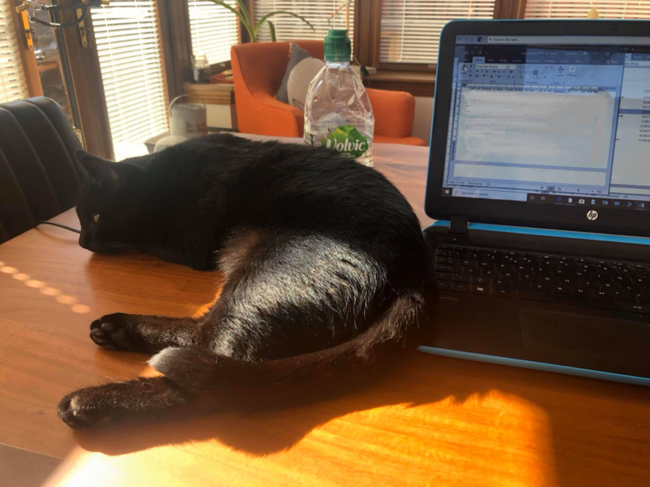 As Assistant Wardens in student halls of residence, Sonja and I were both informed that we must leave with hardly four days notice, in line with the rapid closure of halls of residence. I count myself fortunate – I had only been employed in the role since January and although I had formed an attachment to my new home from the beginning, this is nothing compared to the two years Sonja has lived in hers, or the many more years others have spent in the service. It is from my childhood bedroom in my mother's house that I will be giving tutorials and delivering lectures, with little time to reckon with my displacement. I am again fortunate to have somewhere safe to live, not least in the company of two excellent cats and two somewhat mediocre rabbits. Sonja sends photos of her new desk in her partner's flat; her own, small corner of home, bedecked with plants, books, and paper.I do also wonder how our students are faring with their new situations, whatever those might be. St Andrews witnessed a mass exodus when the current crisis began to escalate, many students returning to their homes. A few have reached out with concerns about the new course structure and the uncertainty that still surrounds some of their assessments. I imagine that some picture me poised at my computer, ready to answer them, instead of wandering around my house in varying states of dishevelment and melodramatic despondency. They will at least have an opportunity to voice their concerns and their questions in the first online tutorial, and though we are dispersed across the world, and in the new format, across time, I hope for a reciprocal engagement open to alternative modes of learning and relationality. I still question, however, what form such an engagement might take. Are we all of us situated in familiar, yet uncanny, environments and can we reconcile these spaces with the virtual ones we must interact with and in? What room exists for disorientation, hesitancy, and gradual adjustment? Is the proposed format compatible with, as Pink advocates (2009: 63), "ideas of learning as embodied, emplaced, sensorial and empathetic?"1 These ideas must surely be challenged in the current context; or perhaps they will simply shift and take on new form and meaning.Fors, Bäckström, and Pink (2013, 175), alternatively, argue that online spaces can be considered sites of sensorial knowledge exchange and production, at least and in part due to the likely necessity of touch in navigating these spaces. The touching of mouses, keyboards, and screens directs action, communication, and movement and so generates embodied and experiential interaction. Virtually situated pedagogical practices can also be considered emplaced, as they remain composed and constituent of "wider environments" (2013, 171). The possibilities for dialogic knowledge exchange, and situated learning, in an online context are therefore not extinguished. As much as I feel the loss of in-person discussion and physical presence, I remain hopeful that our exploration of these virtual spaces will lend itself to further epistemic potentialities – even as we face displacement and disarray.
Displacement & Emergence (Sonja Dobroski)
Being told that I had three days to leave my home instilled a profound sense of displacement. Simultaneously, I felt strangely connected as I tried to figure out just how we would move our tutorials to online teaching – how we would reconnect. Working with colleagues remotely and answering students' queries made me realise that all of us were feeling this sense of displacement in one way or another. Students scattered in different time zones, uneasiness and fear were common emotions shared by all. This feeling was, for me, dissonant. I was being displaced from my home, uprooted as many of my students were as well, while imagining how I could find ways for us to stay together, to find some sense of emplacement in the chaos of displacement. It is in the former where imaginative and generative pedagogy became a tool.
I sat down at my desk and gazed around my flat determining what I could take and what would have to remain, knowing I would have to leave the majority of my possessions behind. I was struck at finding myself deciding whether I should take two more binders of archival materials or my mother's drawings. Overwhelmed, I pulled a book off my shelf, Diné Bahane', the Navajo creation story; a text-based form of oral history that I read as an undergraduate and have returned to throughout my academic career for both personal and professional wisdom. It tells of the creation of the Navajo people and the world. Diné Bahane' tells us that creation was a process via the traveling to four emergent worlds – it is in the fourth world where First Man and First Woman were created. In each world, leaving one and entering into the next we see new possibilities, lessons learned, we see creation. I am not suggesting here some metaphor between pedagogy and a sacred localised history of becoming. Instead, I am taking wisdom and comfort from this extraordinary piece of oral tradition lent to text. As I finished a chapter of the text, I found myself in a new frame of mind, disoriented but also inspired to see what types of novel connections, creations, and experiences online teaching brings to me and my students. I took a deep breath and finding a new resolve, I looked around my home and hastily packed what I could for teaching and research. A self-proclaimed "plant lady," my plants had already been ferried to my new home in panniers via bicycle. I left everything else behind in a locked building to which I no longer had access. As I cycled down the deserted roads to my new home, Diné Bahane' in the one backpack I could take with a few more books, I smiled, ready to explore this new place we find ourselves in.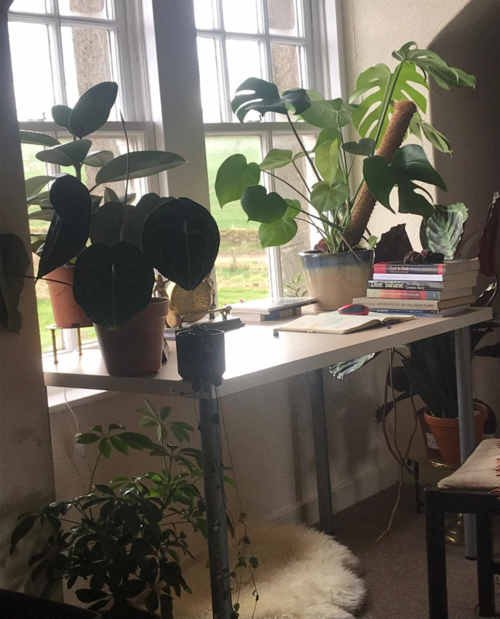 Where are you? (Laura Roe and Sonja Dobroski)
Throughout history, displacement has been used as a strategy in colonial, capitalist, and hegemonic contexts. Within anthropological literature, the displacer is accorded human intentionality and given human face, such as with governments responding to "disaster capitalism" (Adams et. al 2009), settler colonial nations as sites of "denial and non-recognition" (Shalhoub-Kevorkian 2014), and bureaucracies disrupting families and displacing children (Hertzog 2014). In the current crisis, COVID-19 holds no such face: it cannot be seen; it can be asked no questions, as ethnographers are so inclined to do. Its entwinement, however, with structures of power and inequality is apparent, visible in the consistent and ongoing weaponization of the pandemic against the vulnerable and the precarious. One need only think of the Lieutenant Governor of Texas offering up the lives of the elderly to purportedly save the economy (Beckett 2020), or the callousness with which employers are known to be placing precarious workers in unsafe working conditions (Evelyn 2020). Within and outside of academia there are countless stories of redundancies and the termination of casual contracts (Northwood 2020). A close friend of Laura's told her of being made indefinitely redundant, the charity she worked for choosing to retain the only two men out of a staff of twenty-eight – a stark reminder that women are disproportionately impacted in this pandemic and in times of crises. The gendered implications of the recently imposed lockdown across the UK, Europe, and other parts of the world, have been brought to light in the rise of domestic violence cases (Graham Harrison et al. 2020). With regards to online teaching, women are far more likely to be impacted by increased childcare responsibilities, which exacerbate the difficulties of working from home.
There are few parallels to be drawn between the current context of the pandemic, our own situations, and the historical violence(s) of displacement that many cultures and communities have experienced for centuries. The literature, however, does hold insight into affective and literal experiences of displacement that aids us in excavating our own experiences and those of others. Price for instance, in writing on development induced displacement, notes that "although the parameters of impact may differ" displacement holds the potential to corrode social bonds, in addition to causing socio-economic hardship (2009, 267–268). The social bonds we have cultivated over time with our students as educators, similarly, are subject to upheaval and perhaps corrosion. Our hopes of sustaining ties and cultivating an equally rewarding learning environment rest solely on our ability to teach online. Moreover, the socio-economic dimensions of online teaching are highlighted in the assumption that each student has equal access to computers and the internet. Students have been advised to "go home" if they are able and it is safe to do so. This relies on the assumption that students can quickly weigh the risks associated with going home or staying at the University. We are both cognizant that pedagogy constitutes only one concern in a time of immense social disruption, uncertainty, and loss, but it is one that will have great bearing on the lives of countless students as they, and we, are uprooted from our University lives.
In our current circumstances, as our own specific ties to the University really are challenged, it is of our students we find ourselves thinking. Where students once crowded the streets on their way to lectures, tutorials, the library, and cafés, there is open space – the town quiet and subdued. When we discuss what we will say to our students in the first tutorial, we both are tempted to first ask, where are you? At the close of Spring Vacation, our halls should be bustling with students, eager to relate their adventures and travels. Instead, the halls lie empty, almost ghostly in the signs of rushed desertion that forgotten or abandoned belongings mark. Many of our students were due to conduct their own ethnographic research over the break, having spent half of the semester planning their projects around their travels or trips to stay with family, but this will no longer go ahead. Our social lives both personally and professionally have been uprooted by the virus and our need to socially distance. For an anthropologist, social distancing seems particularly counter-intuitive. Our pedagogical approach, however, is one aiming to foster engagement and connection in the face of dispersal and separation, and one that will allow us to maintain our ties to our students and colleagues across the world.
We (the authors) have shared an office, side by side, as colleagues and friends. We have worked together on projects and teaching for years. We have supported one another on this road in our early careers as academics and anthropologists. And though we might now be far apart, in the morning we will "see" our students and each other from our new online homes. It is likely that a great many of us, educators and students alike, are facing disruption, uncertainty, and perhaps displacement. More than ever, the teaching we are confronted with promises unfixed, shifting localities and blurred temporalities – a commingling of emplacement and displacement, togetherness and isolation. Semblances of pre-pandemic life linger, to be thrown into a fray of new possibilities for teaching, learning, and knowing.
Notes:[1] Pink is here discussing learning how to do ethnography, though I apply the concepts to anthropological training and pedagogy more broadly.
References
Adams, Vincanne, Van Hattum, Taslim, and English, Diana. 2009. "Chronic disaster syndrome: Displacement, disaster capitalism, and the eviction of the poor from New Orleans." American Ethnologist 36(4): 615-36.
Beckett, Lois. 2020. "Older people would rather die than let Covid-19 harm US economy – Texas official." The Guardian. Accessed 29/03/2020. Available at: https://www.theguardian.com/world/2020/mar/24/older-people-would-rather-die-than-let-covid-19-lockdown-harm-us-economy-texas-official-dan-patrick
Evelyn, Kenya. "Amazon workers walk out over lack of protective gear amid coronavirus." The Guardian. Accessed 29/30/2020 Available at: https://www.theguardian.com/technology/2020/mar/30/amazon-workers-strike-coronavirus
Fors, Vaike, Bäckström, Åsa, and Pink, Sarah. 2013. "Multisensory Emplaced Learning: Resituating Situated Learning in a Moving World." Mind, Culture, and Activity 20(2): 170-183.
Graham-Harrison, Guiffrida, Angelam Smith, Helena and Ford, Liz. 2020. "Lock Downs around the World Bring Rise in Domestic Violence." The Guardian. Accessed 31/30/2020. Available at: https://www.theguardian.com/society/2020/mar/28/lockdowns-world-rise-domestic-violence
Herzog, Esther. 2014. "Minors' Welfare and Bureaucratic Violence in Israel." Anthropology of the Middle East 9(1): 42-58.
Northwood, Alexander. 2020. "University of Wetherspoon's: Sussex Uni under fire for terminating staff amid pandemic." The Tab. Accessed 29/30/2020. Available at: https://thetab.com/uk/sussex/2020/03/26/university-of-whetherspoons-sussex-uni-under-fire-for-terminating-staff-amid-pandemic-40515
Pink, Sarah. 2009. Doing Sensory Ethnography. London: SAGE Publications.
Price, Susanna. 2009. "Prologue: Victims or Partners? The Social Perspective in Development-Induced Displacement and Resettlement." The Asia Pacific Journal of Anthropology 10(4): 266-282.
Shalhoub-Kevorkian, Nadera. 2014. "Human suffering in colonial contexts: reflections from Palestine." Settler Colonial Studies 4(3): 277-290.
Zolbrod, Paul. 1984. Diné Bahane': The Navajo Creation Story. Albuquerque: The University of New Mexico Press.
Cite As: Dobroski, Sonja and Roe, Laura. 2020. "Pedagogy in a Pandemic: Emplaced Learning" In "Pandemic Diaries," Gabriela Manley, Bryan M Dougan, and Carole McGranahan, eds., American Ethnologist website, 2 APRIL 2020, [https://americanethnologist.org/features/collections/pandemic-diaries/pedagogy-in-a-pandemic-emplaced-learning-during-times-of-displacement]
Sonja Dobroski is a final year PhD Candidate at the University of St. Andrews her research examines U.S. settler colonialism and materiality.
Laura Roe has recently completed her PhD in Social Anthropology, focusing on time, memory and heroin addiction.