March 22-24, 2018
Philadelphia, PA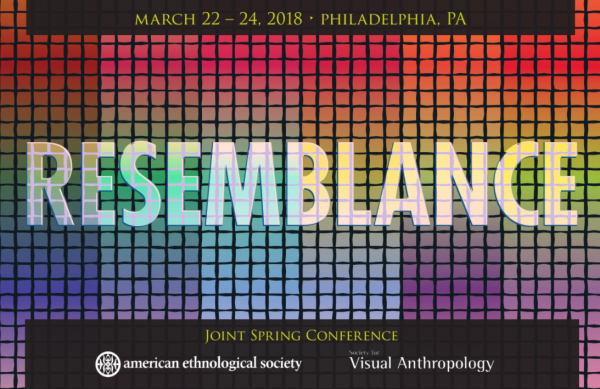 Just for Graduate Students
Graduate Student sessions with keynote speakers
Check the program for times that Elizabeth Chin, Sherry Ortner, and Kamala Visweswaran have reserved to meet and chat with you!
AES Solidarity Lunch
Friday March 23, 11:45 AM-1 PM
Location TBD
Join a gathering for graduate students of color, indigenous students, women, queer, trans, and gender nonconforming students, and students with disabilities to connect and enjoy a low-key conference break! This is primarily a social gathering, but we can make space for sharing strategies and debriefing too. Lunch will be provided. Sign up here: https://docs.google.com/forms/d/e/1FAIpQLSeHn232IsZP611sb734vomBJfm7TsKgiclQgW3P0L_1dwwRdA/viewform
Please contact aessva2018@gmail.com with questions.
Graduate Student Happy Hour
Saturday March 24, 5-7 PM
Location TBD
Sponsored by AES, no sign-up required.
Reading Salons
AES is delighted to host Reading Salons during this conference to encourage conversations about the fiction we love to read. Each Reading Salon discussion leader has ethnographic expertise to bring to bear on their chosen text. Sign up, do the reading in advance, and come prepared to have a far-ranging conversation about these works of fiction.
The salons are free and limited to ten people. Please sign up in advance by filling out the following Google Form: https://goo.gl/forms/kgwpG1SfEpwkumAz1. You will receive an email from workshop organizers to confirm your registration.
Frankenstein in Baghdad
Friday, March 23, 10-11:45 am
Zainab Saleh will lead a discussion of Frankenstein in Baghdad by Ahmed Saadawi (Penguin Books, 2018), in part to reflect on 15 years since the US invaded Iraq. In this allegorical version of the Frankenstein story, the monster is made of the body parts of war victims, and seeks vengeance. This book won the International Prize for Arabic Fiction and France's Grand Prize for Fantasy. https://www.nytimes.com/2018/01/22/books/review-frankenstein-in-baghdad-ahmed-saadawi.html
The Wild Robot
Saturday, March 24, 10-11:45 am
Susan Falls and Jeff Maskovsky will lead a discussion of The Wild Robot by Peter Brown (Little, Brown Books, 2016). This book — written for 8 to 11 year olds — asks the question, "Can a robot survive the wilderness?" When robot Roz opens her eyes for the first time, she discovers that she is alone on a remote, wild island. She has no idea how she got there or what her purpose is–but she knows she needs to survive. After battling a fierce storm and escaping a vicious bear attack, she realizes that her only hope for survival is to adapt to her surroundings and learn from the island's unwelcoming animal inhabitants. This book begs all kinds of questions about family, belonging, consciousness, nature, and ecology. Read it and look at the pretty pictures and come to talk us about it.
http://blogs.slj.com/afuse8production/2016/06/03/review-of-the-day-the-wild-robot-by-peter-brown/#_
Garments
Saturday, March 24, 3-4:45 pm
Dina Siddiqi and Caitrin Lynch will lead a discussion of the 2015 award-winning short story "Garments," by Tahmima Anam. The story focuses on a woman who works in a Bangladeshi garment factory, and is set in the context of the 2013 collapse of the Rana Plaza factory that killed 1,100 garment workers in Dhaka. Come for a discussion of labor, the global apparel industry, and the relationship between the craft of fiction writing and the craft of ethnographic writing. (We'll provide a pdf copy of the story to those who sign up.) https://www.londonreviewbookshop.co.uk/blog/2016/9/garments-by-tahmima-anam
Keynotes
Elizabeth Chin, Art Center College of Design
"The Laboratory of Speculative Ethnology: Design Prototypes for Different Tomorrows."
Sherry Ortner, UC Los Angeles
"Documenting Newark: Violent Resemblances"
Kamala Visweswaran, UC San Diego
"Ethnography and the Algorithmic Turn."
Preconference Workshops
Workshops require preregistration and a $20 deposit each, which will be refunded upon your confirmed attendance.
How to publish your first major journal article
American Ethnologist editor Niko Besnier illustrates the article manuscript publication process.
How to transform your dissertation into a monograph
Acquisition editors Fred Appel (Princeton University Press) and Jennifer Hammer (NYU Press) share insights on book manuscript review and publishing.
Multimodal Ethnography: Practice & Professionalization
Editors of the American Anthropologist newly branded multimodal section discuss emerging multimodal works in anthropology.
Registration
Registration remains open until the final day of the conference.
Graduate (and undergraduate) students! We have a deal for you. AES membership is free if you sign up between now and March 31, 2018. This would normally be $18, but it's free for a whole year. It also will get you a $5 discount on the AES/SVA spring meeting registration because you can register for at student "member" rate ($40) rather than the student "non-member" rate ($45). To access this deal, do the following:
Become an AES member. Enter the code AESSS18 (there are 3 Ss in the code) at the checkout on the join/renew form.
Then register for the AES-SVA 2018 spring conference here at the subsidized student member rate.
Submissions for panels and presentations for AES/SVA 2018 are now closed.
Questions?
For questions about annual conference logistics or submitting your abstract, please contact the AES/SVA Program Committee at aessva2018@gmail.com.
For questions about registration, please contact the AAA Meetings Department at AAAmeetings@americananthro.org.
For registration assistance requests, please contact AAA within business hours, which are Monday through Friday, 9 am until 5 pm EDT.
Theme: Resemblance
In an era of "fake news" and "alt" political movements, what counts as meaning making? How can we understand epistemology in an era of madness? The issue of resemblance is as much a pressing social question as it is an academic preoccupation. The American Ethnological Society and the Society for Visual Anthropology explore the theme of resemblance at their 2018 joint spring conference. Welcoming anthropologists, artists, media makers, and community members to Philadelphia during March 22-24, the meeting will provide an opportunity to revisit and explore anew what we believe is knowable as anthropologists and the ways we may wish to rethink our priorities and approaches in our era of heightened violence, strife, surveillance, and policing.
Resemblance is at the very heart of anthropology, as its practitioners have sought to demonstrate the commonalities of all people. While resemblance relies upon recognition and likening, it is also a means of comparison to what one perceives and believes they already know. The conference organizers invite proposals for panels consisting of papers or multimodal presentations, as well as individual submissions that theoretically, methodologically, visually, or otherwise examine the conference theme. We welcome graduate students to present their work in its early stages and to network with more establish practitioners. The conference will feature exhibitions, speakers, films, performances, as well as a town hall discussion about how our field can wield greater influence in public struggles of resemblance.